5th CHEP Conference Bulletin
About CHEP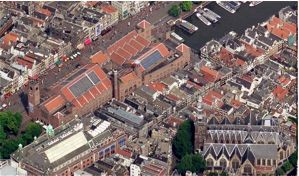 Computing in High Energy Physics (CHEP) provides an international forum to exchange information on computing experience and needs for physicists and computing professionals from the High Energy and Nuclear Physics community, Computer Science, and Information Technology, and to review recent, ongoing and future activities. CHEP 2013 is organised by Nikhef, the Dutch national institute for sub-atomic physics, in collaboration with partners.
In this bulletin: Our Sponsors – Programme – Registration –
Key dates and links
Our Sponsors
The 20th CHEP conference is honoured by the support of our Gold sponsors:
by our Silver sponsor:
as well as by our Bronze sponsors:
Plenary and Parallel Programme
We are pleased to offer an exciting plenary programme as well as six parallel tracks packed with excellent talks and complemented by an exhaustive poster village filled with great new ideas and in-depth results. Our key note speakers are:
Brian Bockelmann of Nebraska on big data processing in HEP;
Philippe Canal of Fermilab on future directions for HEP software packages such as GEANT4+ and Root6;
Pirjo-Leena Forsström of CSC Helsinki on data archiving and data stewardship;
Jim Kowalkowski of Fermilab on massive multicore and GPU developments;
Robert Lupton of Princeton on software engineering for science in LSST;
Inder Monga of ESnet on software defined networking and bandwidth-on-demand;
Axel Naumann of CERN on parallel languages, the C++ v11 concurrency model, and the migration strategy for HEP;
Harvey Newman of Caltech on trends in advanced networking;
Stefano Spataro of Torino on the computing design choices made for PANDA at FAIR, and how trigger-less data acquisition and massive multi-core can change our thinking;
Edwin Valentijn of the Groningen Kapteijn Institute on data processing for the LOFAR radio telescope with the Target project, and how that is moving forward towards SKA;
Torre Wenaus of Brookhaven on the lessons learned in computing during the LHC shutdown and the development programme currently underway;
Kostas Glinos of the European Commission on how the e-Infrastructure vision affects the research infrastructure landscape, and how European e-Infrastructure can work towards international collaboration across continents in Horizon 2020.
and Oxana Smirnova of Lund University will be leading the plenary panel discussion "HEP computing is 'doomed' to become less HEP-specific", looking at why we share, or do not share, software between HEP and other sciences, industry and the world at large.
The parallel programme has six tracks, with the session on Distributed Processing and Data Handling having coordinated focus sessions on both Infrastructure, Sites, and Virtualization as well as on Experiment Data Processing, Data Handling and Computing Models.
For those participants active in the IFCA DPHEP study group, a separate workshop is organised by the DPHEP community on the Wednesday afternoon.
Registration is open
You can register for the conference and arrange your preferred lodgings on-line. The conference registration gives access to all plenary and parallel sessions, lunches from Monday to Thursday, coffee and tea breaks, and the Thursday dinner cruise. Register early and save 145 Euro over the on-site rate! Booking early also gives you the best choice in lodging at the special conference rates.
| | |
| --- | --- |
| Early-bird (until 28 June 2013) | € 550 |
| Regular rate (until 4 October 2013) | € 650 |
| On-site (14-18 October 2013) | € 695 |
We would like to invite you to the congress dinner on 17 October. The dinner will take place on board of the Ocean Diva, a large and impressive boat that will take you for a trip over the Amsterdam waters while enjoying your dinner. Please join us for this exceptional dinner! One ticket is included in the registration fee. A limited number of tickets for accompanying persons to the social event is available through the registration web site for € 130.
Registration terms and conditions for the conference:
You can pay your registration fee by credit card or by bank transfer, where a 10 Euro surcharge applies to bank transfers to cover the handling fees
If you cancel your registration before June 28th, a 50 Euro cancellation fee will be charged
If you cancel your registration before October 4th, a 150 Euro cancellation fee will be charged
Cancellations after October 4 will not be accepted.
You can have your registration transferred to another person in your own organisation until October 4th at no cost
Any refunds will be processed only after the end of the conference
For hotel bookings made through the registration web site, additional terms and conditions apply.
Contact
CHEP 2013 is organised by Nikhef, the Dutch national institute for sub-atomic physics, in collaboration with partners. Details can be found at the conference website www.chep2013.org, or you can follow us on twitter.
For more information please contact CHEP2013, Nikhef, P.O. Box 41882, NL 1009 DB Amsterdam, The Netherlands. Or by e-mail at info at chep2013.org.
Register at http://www.chep2013.org/registration to receive future bulletins and invitations.