2nd CHEP Conference Bulletin
About CHEP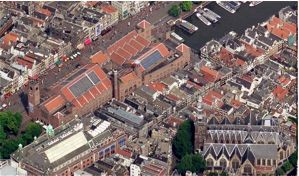 Computing in High Energy Physics (CHEP) provides an international forum to exchange information on computing experience and needs for physicists and computing professionals from the High Energy and Nuclear Physics community, Computer Science, and Information Technology, and to review recent, ongoing and future activities. CHEP 2013 is organised by Nikhef, the Dutch national institute for sub-atomic physics, in collaboration with partners.
In this bulletin: Call for Abstracts – Exhibition – Schedule – Registration – Travel and logistics – CHEP2015 in Okinawa.
Key dates and links
Call for Abstracts
The CHEP programme consists of plenary presentations as well as six parallel topical tracks. At this time we are inviting contributions to the parallel tracks, be they either oral or poster presentations. We welcome abstracts presenting original research and practical results in the following areas:
Data Acquisition, Trigger and Controls
Event Processing, Simulation and Analysis
Distributed Processing and Data Handling
Data Stores, Data Bases, and Storage Systems
Software Engineering, Parallelism & Multi-Core
Facilities, Production Infrastructures, Networking and Collaborative Tools
Abstracts must be submitted on or before Monday 1th April 2013 at 2300 UTC via Indico.
Abstracts will be reviewed based on relevance to the conference and selected track, and on originality, quality and readability of the contribution. Abstracts should give a concise summary of the work, addressing the above review criteria, in no more than 500 words. The abstracts should be able to stand alone and be suitable for inclusion in the on-line Book of Abstracts.
For the poster session dedicated time slots have been allocated in the conference schedule. Given the foreseen number of submissions, the programme committee reserves the option to allocate a poster slot to accepted contributions even when oral presentation has been requested, or to re-assign a contribution to a different track to order to provide a better match.
Authors of accepted contributions that have been presented at the conference will be invited to submit a full paper for the conference Proceedings. The proceedings are peer-reviewed and published in the Open Access Journal of Physics: Conference Series. In-person presentation of the contribution at the conference is a prerequisite for inclusion in the proceedings – we specifically request poster contributors to ensure at least one designated (co-)author is registered to the conference and able to present the work during the poster session.
Abstract submission and processing is managed in Indico, graciously offered by CERN IT. To submit an abstract now (and create a CERN external account if necessary), proceed to www.chep2013.org/indico ...
We expect to be able to send notification of acceptance or rejection by the 24th of May. Authors of accepted and presented contributions will be requested to submit a full paper by the end of the conference (submission dead-line: 21st of October 2013).
Exhibition
We are pleased to offer exhibition spaces for academic and research institutions at the conference venue. The standard exhibition space is approximately 7m2 in size, and booth rental fee includes a table, chairs, access to electrical power (230V/50Hz/16A), internet connectivity and display walls for posters and advertising materials. Special requests and private booths can be accommodated on request.
| | |
| --- | --- |
| Rental fee standard booth 7m2 | € 2000 ex. VAT |
To reserve a booth, contact info@chep2013.org.
Schedule
The preliminary programme schedule is available on-line: the programme starts on Monday morning at 09:00 and runs until Friday 12:30. Thursday evening a dinner is offered as part of the conference in an informal atmosphere designed to encourage interaction and discussion amongst the participants.
Wednesday afternoon you will have the opportunity to join one of the tours of Amsterdam (not included in the conference fee and to be paid on-site), or explore the many sights and museums in Amsterdam on your own. Our venue, the Beurs van Berlage, is located centrally close to Dam Square, within walking distance of the Amsterdam Museum and 10 min away by tram to the Van Gogh museum, Rijksmuseum and the Hermitage on the Amstel.
All excursions are offered by Key Tours and can be booked during the conference (information leaflets will also be available on-site).
Registration
Registration for the conference will open in March, with a discounted rate offered to early birds. Registration fees cover access to the conference and parallel tracks, all lunches and coffee breaks, the conference social event on Thursday, and publication of your accepted and presented contribution(s) in the conference proceedings.
| | |
| --- | --- |
| Early-bird (until 28 June 2013) | € 550 |
| Regular rate (until 4 October 2013) | € 650 |
| On-site (14-18 October 2013) | € 695 |
A limited number of tickets for accompanying persons to the social event is available through the registration web site for € 130.
Travel and Lodging
The conference will be held in the centre of Amsterdam in the historic heart of this UNESCO World Heritage city, surrounded by the famous canals. Amsterdam is the capital of the Netherlands, located in the mild temperate zone of north-western Europe and well connected to the world. Schiphol Amsterdam Airport (AMS) is a major European hub, serving 300 destinations worldwide, and host to most major airlines as well as many budget carriers. It also operates as a dual-hub system with Paris CDG through Air France-KLM, with several fights per hour between both airports. The airport is within easy reach of the city: a direct train leaving from the airport plaza links it to the inner city with a 15-min train ride, with services running 24 hours a day.
A list of recommended hotels will be provided in the next Bulletin (due in February), with prices for a single occupancy room in a 3* hotel starting at €100 pppn. for slightly out-of-centre hotels, and €130-180 pppn. for a centrally located 3* hotel. Other choices are of course available - please await the 3rd Bulletin for more information.
CHEP2015
We are pleased to announce that the High Energy Accelerator Research Organization (KEK), the Institute of Physical and Chemical Research (RIKEN), the University of Tokyo, and the Okinawa Institute of Science and Technology (OIST) have jointly offered to host the 21st CHEP conference in 2015 in Okinawa, Japan, around mid-April 2015. Blessed with a mild climate, April is the best time to visit Okinawa and the recently constructed auditorium at OIST will be an excellent venue to accommodate the CHEP participants. Naha airport on Okinawa is well connected to the world via Tokyo Narita (8 flights per day), Seoul, Shanghai, Taipei, Hong Kong and many domestic destinations.
Contact
CHEP 2013 is organised by Nikhef, the Dutch national institute for sub-atomic physics, in collaboration with partners. Details can be found at the conference website www.chep2013.org, or you can follow us on twitter.
For more information please contact CHEP2013, Nikhef, P.O. Box 41882, NL 1009 DB Amsterdam, The Netherlands. Or by e-mail at info at chep2013.org.
Register at http://www.chep2013.org/registration to receive future bulletins and invitations.